INFORMĀCIJA PAR PRODUKTU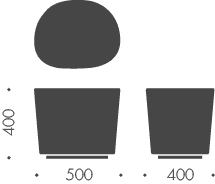 Pufa asimetriskā forma ļaus atdzīvināt jebkuru interjeru.
TAPSĒTU MĒBEĻU KOPŠANAS INSTRUKCIJA UN IETEIKUMI

Tapsētās mēbeles ir nepieciešams izsūkt ar putekļu sūcēju vismaz vienu reizi nedēļā, attīrot audumu no netīrumiem un putekļiem, tādā veidā paildzinot auduma ilgmūžību.

Lai izvairītos no apdares auduma izbalēšanas, nav ieteicams produktu turēt tiešos saules staros. Viegla auduma toņa maiņa, kas parādās ilgtermiņā lietojot mēbeli, ir dabisks auduma nolietošanās process.

Lai nodrošinātu viendabīgu auduma un spilvenu pildījuma nolietojumu, ieteicams tos reizi nedēļā apgriezt, ja iespējams, samainīt to novietojumu ar citiem tādā paša izmēra un nozīmes spilveniem, kā arī ik pa laikam to pildījumu sabužināt.

Pārliecinieties, ka dīvāna vai gultas kājas ir pareizi un stingri piestiprinātas pie pamatnes un regulāri pārbaudiet, vai stiprinājumu vietas nav palikušas vaļīgas.

Ja dīvānu, gultu vai citu produktu ir nepieciešams pārvietot, mēbeles pārvietošana ir jāveic atraujot (paceļot) to no zemes (ja tas nav iespējams, produkts pirms pārvietošanas ir jāizjauc). Kategoriski ir aizliegts mēbeli pārvietot velkot vai stumjot (šādi pasargājot gan grīdas segumu, gan attiecīgās mēbeles (kājas).

Ja uz mīkstās apdares mēbeles izlīst šķidrums, kas varētu atstāt uz virsmas traipu, tas uzreiz ir jānosusina ar tīru, mitrumu uzsūcošu drānu un traipa vieta jānotīra ar tīru, remdenu ūdeni. Produkta tīrīšanā aizliegts lietot ķīmiskos vai balinošos tīrīšanas līdzekļus. Šādu produktu lietošanas rezultātā var tikt atteikta garantija.

Vairāki mīksto mēbeļu audumu ražotāji pieļauj izmantot delikāto mazgāšanu dažu veidu šinilas un mikrovelūra audumu kopšanai. Taču tas attiecas uz audumu kā tādu, nevis mēbelei šūtu darinājumu. Pat, tikai nedaudz atkāpjoties no audumam paredzētās mazgāšanas tehnoloģijas (pārāk karsts ūdens, nepareizs izgriešanas režīms u.t.t.) var sabojāt auduma struktūru, bet pārvalki var deformēties. Tāpēc mūsu tehnologi neiesaka izmantot mazgāšanu.